Commercial gardening solutions in Melbourne for your business
We have dedicated our efforts to providing garden maintenance solutions to businesses in Australia. They are designed to enhance your outdoor space and turn it into an attractive feature to your premises that would undoubtedly complement your customers' experience. Suitable for hotels, motels, office buildings, rooftop gardens, factories. Our company ensures that the skilled and fully trained commercial gardeners execute the service professionally and to your express requirements. We bring on outstanding results, without disrupting your daily business operations, whether you have booked a regular lawn mowing service or you have requested our garden maintenance assistance.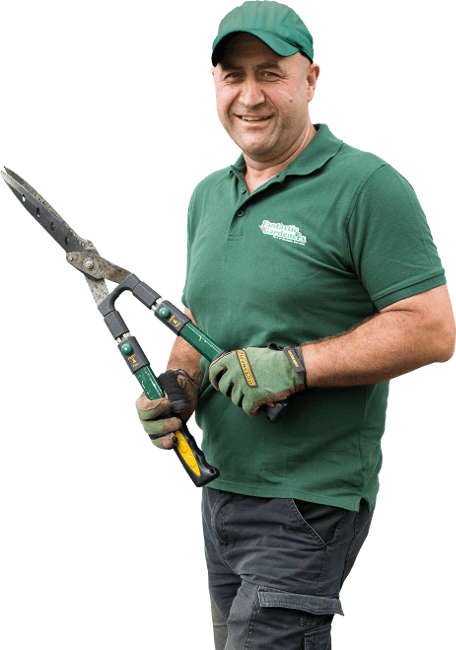 Meet the gardening pros
Trusted and experienced commercial gardeners
Extensively trained, hard-working pros
Boasting experience and problem-solving skills
Neatly uniformed, polite and friendly
Happy to work at weekends and on public holidays
Deliver excellence and a guaranteed quality of workmanship
Applying their strong attention to detail
Understanding your specific business needs
Ready to offer a customised service that meets your requirements
Fully equipped and insured specialists
Using powerful tools, mowers and latest equipment
Handling expertly specialised tools and gardening equipment
Comprehensively insured against damages
Industry sectors that can benefit from our gardening services
Foodservice

We can maintain your restaurant garden on a regular basis and make it a more attractive and inviting place, so your clients have a pleasant and enjoyable eat-out. To prevent ants or other insects or pests, turn to our pest control technicians.

Hotels

A nicely maintained outdoor area speaks volumes to guests about your business and the quality of your hospitality services. Get a discount by combining gardening and cleaning services.

Healthcare

Make sure patients have a relaxing time during their treatment by creating a pleasant exterior space, which promotes a positive mental state and a potentially quicker recovery!

Property management

A number of property developers and rental investors rely on the Fantastic Gardeners to improve business opportunities by enhancing their property's outdoors. And for property indoors - check our commercial handyman services.

Sports & leisure

We will listen carefully to your specific requirements and come up with the perfect solution that communicates effectively with your customers.

Public sector

Maintain an immaculately trimmed green space to provide the public with a more than excellent customer service experience.
So whatever your workplace is, you can be 100% sure that we can keep it in tip-top condition.
Their professional services and efficient work are of high standard and we have been very pleased with the work they have done for us.
Kristina Marie Bedford, Collier Contracts Limited
Presenting your business in the best possible light is a key to success!
Make the most of your commercial outdoor space - it can be as powerful as a unique selling point.
Get in touch