Call for our discreet commercial pest control and safeguard your business image
With Fantastic Services' commercial pest control solutions in Melbourne and Sydney, you can count on running your business in a safe and vermin-free environment. We employ the latest pest extermination and wildlife removal methods, in accordance with industry-approved standards and all applicable regulations. The Fantastic pest controllers are licensed to use specialised equipment and professional pest extermination products, which effectively eliminate any rodent or insect infestation from your commercial premises. They are also extensively trained to safely apply wildlife control practices, where the uninvited intruder is relocated in a humane and stress-free manner.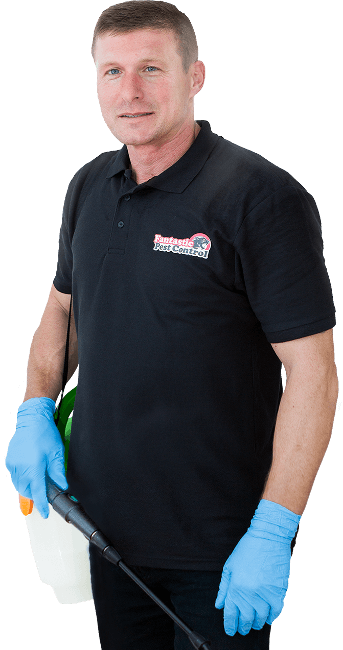 Meet the commercial pest controllers in Melbourne
Fully insured and certified
Qualified, additionally trained and experienced pest controllers
They hold Public Liability Insurance against damages
Licensed and certified to safely apply a range of pest control products
Adhering to all the relevant safety regulations and standards
Following industry-set standards and practices
Inspection - identifying the level and type of infestation
Pest control - using a variety of time-tested techniques and products
Observation - follow-up monitoring options
Prevention - providing you with proofing and prevention advice
Employing advanced methods and equipment
Using the latest pest control technologies and tools
Applying safely proven extermination methods or wildlife removal procedures
Businesses sectors we cover in Melbourne
Public sector

We will evaluate potential risks and identify possible pest situations at the public facility in your care to ensure the safety of your staff and that of all local residents who rely on your services.

Offices

Prevent the crawling and flying pests from settling in your offices and protect your staff, business partners and clients. We also provide office cleaning services which should be done before the pest extermination.

Property management

Don't drive away your good tenants by postponing the elimination of a hazardous insect or rodent infestation, pest control is usually the landlord's job. To ease the process of maintaining your property, you can book with us a gardening service witha discount.

Retail

Protect your business image by booking our discreet pest control solutions to avoid undesirable shopping situations for your clients.

Hotels

Your guests do not need memories of sleepless nights during their business trip or holiday. Ensure your facility is pest-free and offer customers the ultimate leisure experience. Keep your hotel inshape with our commercial handyman services.

Sports & leisure

Provide your customers with a truly enjoyable experience at your facility by ensuring that it is pest-free at all times!

Foodservice

We keep the food authorities well away by providing you with effective pest control solutions, whether you run a restaurant or a fast food takeaway business.

Healthcare

Maintaining high sanitation and hygiene standards in a healthcare facility goes hand in hand with an effective and timely pest control.
So whatever your workplace is, you can be 100% sure that we can keep it in tip-top condition.
Their professional services and efficient work are of a high standard and we have been very pleased with the work they have done for us.
Kristina Marie Bedford, Collier Contracts Limited
Pests are bad for business - it's simple as that!
We come and take actions immediately, so you don't need to.
Get in touch